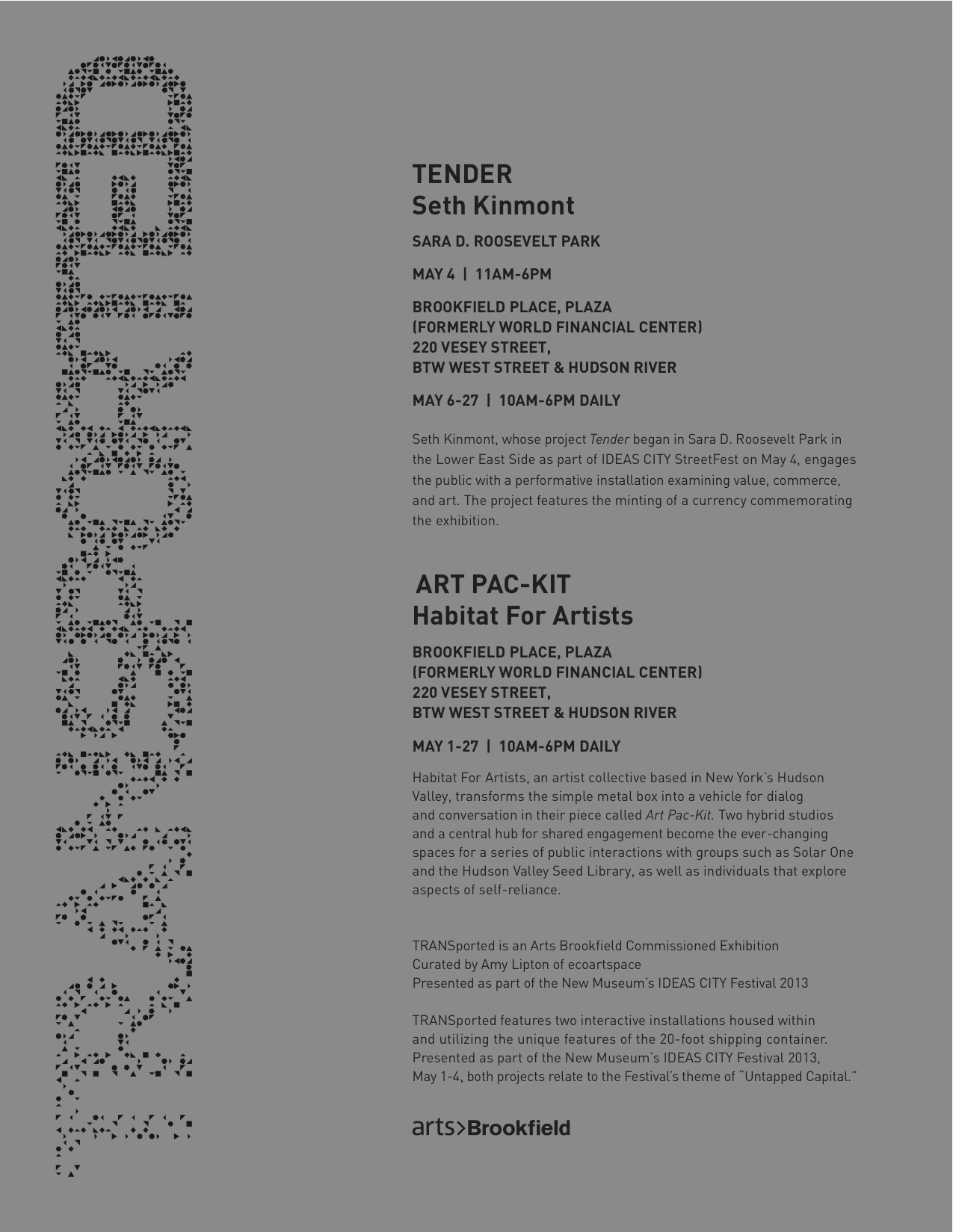 Commissioned by Arts Brookfield in May 2013, TRANSported consisted of two 20-foot shipping containers on the riverfront plaza in Battery Park City as part of the New Museum's IDEAS CITY Festival 2013, which challenges artists to reimagine the urban environment in a future shaped by depleted and destroyed resources. Within the narrow confines of the shipping container – a former symbol of New York City's once-vibrant manufacturing industry — the two projects offer vastly different but equally playful variations on the theme "Untapped Capital."
At Sara D. Roosevelt Park on the Lower East Side as part of IDEAS CITY StreetFest and then at Brookfield Place/World Financial Center, artist Seth Kinmont minted and issued his own currency out of his container-turned-bank in TRANSported: Tender. The conceptual project presented visitors with freshly stamped coins and newly printed bills whose value shifts from fixed to fluid, transforming the items into a kind of lottery ticket that could be considered a souvenir, a token, a piece of art in itself — or a chance to win a work of art that has the potential to generate its own value.
With TRANSported: Art Pac-Kit, the shipping container was transformed into two working studios by artists collective Habitat For Artists. Solar power and rainwater was collected from the rooftop, which was also home to a square-foot garden, while exterior walls were covered with more plants and a public message board where visitors left written suggestions and ideas. Meanwhile, discussions on conservation and sustainability were held in a central hub connecting the studios.
"My title TRANSported refers to the history of this site as a shipping port where New York Harbor meets the Atlantic Ocean. TRANSported also suggests ways in which Seth Kinmont and Habitat for Artists are both using materials to visually transport viewers into different realities and presenting possibilities for the imagination to soar. As a curator whose work is focused on environmental issues, I am thrilled to be working with the Ideas City Festival's theme of Untapped Capital which states as their goal: an examination of surplus resources that may be under-recognized or underutilized, ranging from people and raw materials, to ideas, networks, varied resources, and modes of communication and provides a meeting place for developing alternative thinking as regards new methodologies, new solutions, and new goals." Amy Lipton