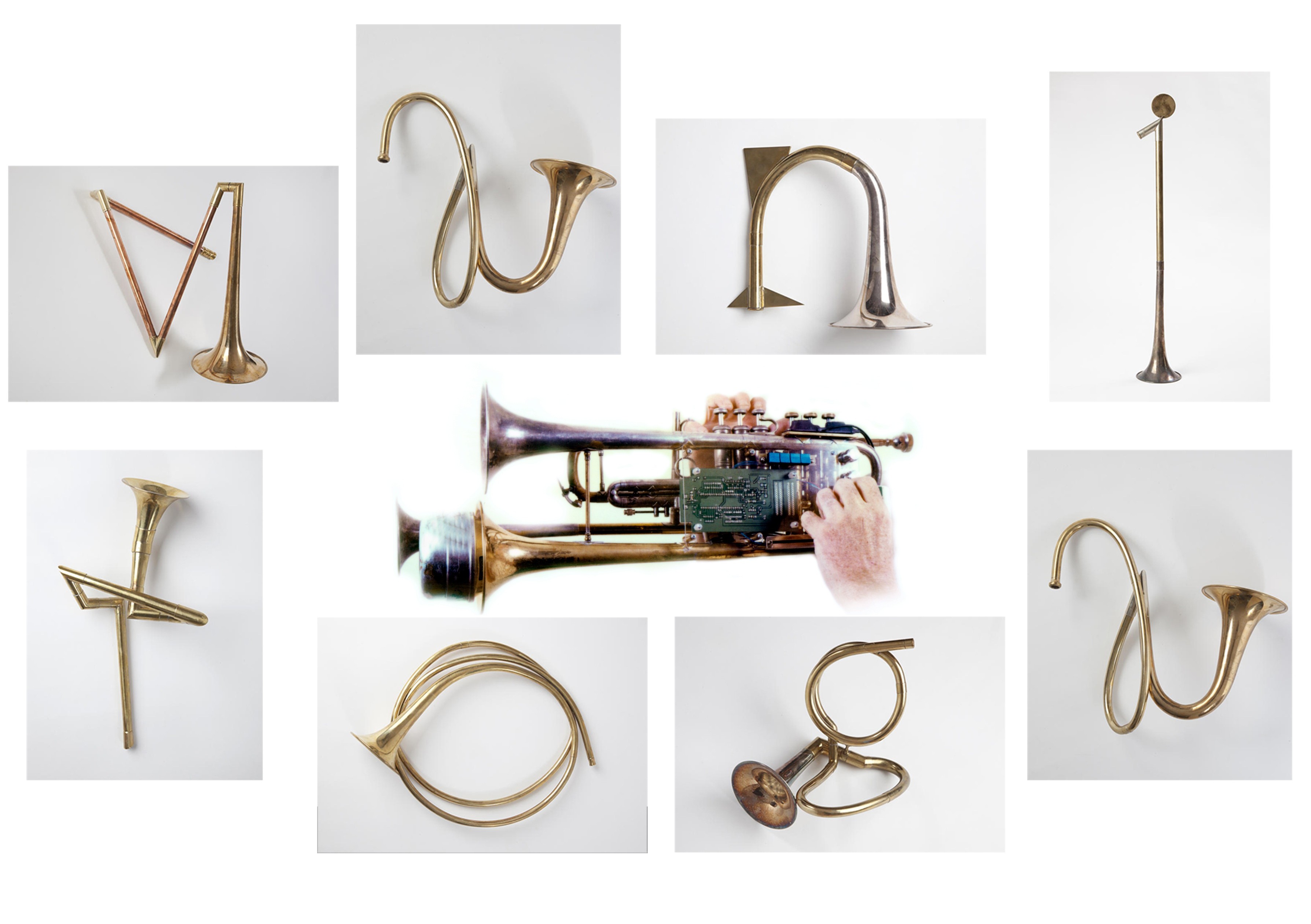 Neill and Szymanski first collaborated in 1991 on Antiphony at Amy Lipton Gallery. Antiphony was written by Neill for Szymanski's phonemophones and percussion instruments/sculptures with live electronics and was performed in a variety of settings. Kyle Gann, former Village Voice music critic and contemporary music scholar, analyzed the composition in his paper Downtown Beats for the 1990's, published in the Contemporary Music Review, 1994.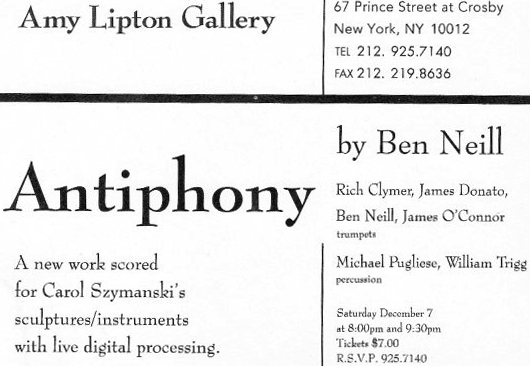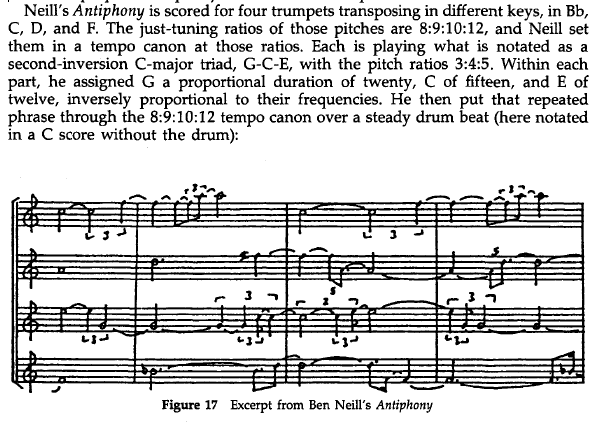 In 2013 Neill was invited to be an artist in residence at Manitoga/the Russel Wright Design Center to create a new piece to be performed at the site. He proposed a work for his self-designed mutantrumpet with live electronics and an ensemble of Szymanski's horns that spell the word MANITOGA. Neill received a 2014 New York State Council on the Arts Individual Artists grant for the commissioning of the new piece.  
The composition will begin with players widely dispersed in Manitoga's woodland garden, beyond view of the audience. The music will materialize from the sonic landscape as the players gradually move closer to the Quarry Pool and waterfall.  Through his electronic mutantrumpet, Neill will engage in musical dialogues with Szymanski's "phonemophones," shaping the acoustic and electronic textures in real time.
Manitoga, the composition, will draw upon influences as varied as the Native American spiritual connection to nature, the region's Revolutionary War history of battle cries and bugle calls, and Mahler's use of the horn call as a pastorale. A Hudson Valley resident, Neill also draws upon the experience of hearing Taps played from across the river at West Point and his fascination with the rhythmic and melodic processes of insects and birds in the Hudson Highlands.
The piece will end with all musicians playing in a concert arrangement. Following the last sound, the horns will be gathered to spell the word MANITOGA; the instruments have arrived at their destination through their journey out of the wilderness. Manitoga, the composition, will be inspired by the setting and history of Manitoga, the place – integrating Wright's sensibility and celebration of nature through design – as well as Wright's early work with metal objects that relate to both Neill and Szymanski's practice.
ABOUT THE ARTISTS
Ben Neill is a composer, performer, producer, and inventor of the mutantrumpet, a hybrid electro-acoustic instrument. Neill's music blends influences from electronica, jazz and contemporary classical music, blurring the lines between acoustic instrument performance and electronic music. Neill has been called a "creative composer and genius performer" by Time Out NY and a "musical powerhouse, a serious and individual talent" by Time Out London. He studied with minimalist La Monte Young and  has recorded nine CDs of his music on the Universal/Verve, Thirsty Ear, Astralwerks, Six Degrees, Ramseur, New Tone and Ear-Rational labels.
Neill has performed and exhibited extensively in a wide variety of international settings. In 2010 his music theater work Persephone was presented at the BAM Next Wave Festival. His new electronic opera in collaboration with Mikel Rouse, The Demo, will premiere in April 2015 at the Bing Concert Hall at Stanford University. Other performances include Lincoln Center, Moogfest, Le Poisson Rouge, Tate Modern, the University of Illinois Krannert Center for the Performing Arts, Spoleto Festival, Cite de la Musique Paris, Bang on a Can, World Financial Center, Umbria Jazz, American Museum of National History, and the ICA London. Neill's many collaborations include working with Robert Moog on the original mutantrumpet, and projects with David Wojnarowicz, DJ Spooky, Page Hamilton, Rhys Chatham, Nicolas Collins, David Behrman, John Cale, John Cage, Bill Jones and DJ Olive.
Carol Szymanski is a visual artist whose work operates from a conceptual base and has spanned across many mediums including sculpture, music, performance, video, photography and poetry. All of the work pertains to language. Her sculptural work has been exhibited widely in galleries and museums, most recently at CCA Andratx, Spain, 2010 and Lesley Heller Workspace 2011.  Her poetry and photography has been published in Atlantica, Canary Islands, 2010, ABE'S PENNY, Brooklyn, NY volume 2.4, 2010, Wig II 1, 2010, Eugene, Oregon and With+Stand 5, Berkeley, CA, 2011. She has collaborated with many musicians with her performance work including Ben Neill at Thread Waxing Space, NY, Dewey Redman at Pat Hearn Gallery, NY and Leo Smith at The Santa Monica Museum of Art. In 2012 Szymanski and Neill performed a short excerpt of Big Thoughts at the Haunch of Venison Gallery, NY. She holds a MFA from the San Francisco Museum of Art, attended the Whitney Museum Independent Study Program and has been the recipient of numerous awards including the Prix de Rome for sculpture and the NEA.
Szymanski and Neill are also currently collaborating with minimalist poet Aram Saroyan on a new work titled Big Thoughts that uses Szymanski's entire set of 26 phonemophones based on each letter of the alphabet.
The Manitoga commission is made possible by the New York State Council on the Arts with the support of Governor Andrew Cuomo and the New York State Legislature.